Amy was a former model, so she owns a lot of glamorous outfits.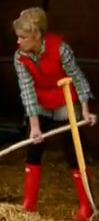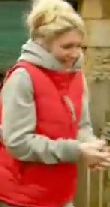 When the Dorothys are given the mission of being a good farm-worker just like Dorothy in the film, Amy still remains to look glamorous.
She has her hair up, and is seen to have black nail polish. She wears a blue-green checked blouse, with black leggings under tweed mini-shorts.
She also wears a red waist-coat and matching red wellington boots. She is also seen in a grey hoodie.
Mission song
Edit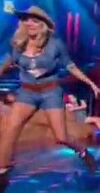 When Bronte wins the farm mission, she picks Amy to sing with her along with Jessica and Emilie.
The girls play the roles of cowgirls in the song. Amy dons a flowery tube top with a blue denim one-peice. She also has a big, brown belt and cowgirl boots. Like the others, she has a cowgirl hat on.
Comments
Edit
Ad blocker interference detected!
Wikia is a free-to-use site that makes money from advertising. We have a modified experience for viewers using ad blockers

Wikia is not accessible if you've made further modifications. Remove the custom ad blocker rule(s) and the page will load as expected.